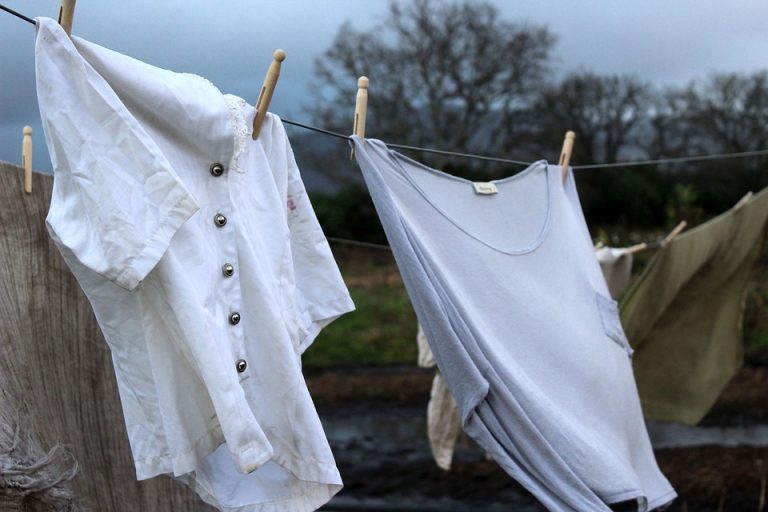 Fjerne forskellige pletter på tøj
05/10/2016 Fanny 0 Comments
Det er ikke ualmindeligt at vi fra en tid til en anden er så uheldige at få en plet på tøjet. Pletter kan til tider være svære at få af, og hvis man behandler dem forkert, er slaget tabt: pletten kan ikke fjernes. Derfor vil vi give en guide til de mest almindelig og typiske pletter som man kunne have hjælp til at fjerne. Der skal dog tages højde for materialet også, så man ikke ødelægger sin yndlings bluse.
De typiske pletter
Der findes mange typiske pletter som man får på tøjet. Det er blandt andet fra kropsvæsker, madlavning og hverdags brug. Det er forskellige behandlinger alt afhængigt af hvilken type plet der er tale om og hvad materiale tøjet er fremstillet af. Det er uanset pletten, vigtigt at man hurtigt får den fjernet da den kan blive værre at få væk, hvis den får lov til at sidde for længe.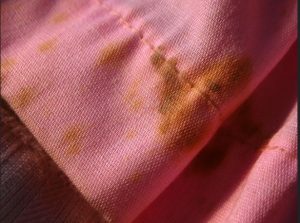 Hvordan fjerner man de enkelte pletter?
Pletter kan fjernes med mange forskellige midler. Vaskemidler, kan også være fremstillet til genstridige pletter, hvor det f.eks. kan være en fordel at bruge produktet Vanish, som er direkte fremstillet til at løsne pletten ved hjælp af aktiv ilt, det er meget benyttet i den branche. Ved pletfjerning, kan også benyttes en spray pletfjerner, der skal påføres på tøjet/pletten inden det vaskes i vaskemaskinen. Brug vejledningen til dette bag på flasken til det pågældende produkt, da det er forskelligt fra producenterne. Fx. Bio-Tex og Ariel. Der er taget højde for hvad man oftest skal have en vejledning til at fjerne og derfor vil det ikke være alle former for pletter der vil blive nævnt. Bemærk at ved silke og uld kan man anvende salt, 2 spske til 2 liter vand, i stedet for vaskemiddel. Det tåler nemlig ikke vaskemiddel med enzym. Til almindeligt tøj med pletter, anbefales at der vaskes med et superkoncentreret vaskemiddel, da det er udviklet til netop pletter. Hvis man så stadig ikke kan få pletterne af, kan man prøve sig frem med disse tricks.
Blod
Opvaskemiddel:
Tøjet lægges i blød i en balje eller spand med koldt vand og der tilsættes ca. 2 ml opvaskemiddel

Lad det virke i en times tid og skrub tøjet med en blød børste eller gnub det godt mellem hænderne/fingrene

Hvis pletten ikke forsvinder, lægges det yderligere i blød
Et andet råd er bagepulver:
Bland 2 dl bagepulver i 1 dl vand

Smør blandingen ud på tøjet med en ske eller svamp

Lad det virke i ca. 30 minutter

Vask tøjet på et almindeligt program med vaskemiddel
Græs:
Kan fjernes med glycerin. Start med at påfører glycerin, indtil pletten er gennemvædet med glycerin. Lad det virke i ca. 10-15 minutter afhængig af pletten, og vask derefter tøjet på et almindeligt vaskeprogram (30-40 grader) med normal dosis vaskemiddel.
Sved:
Man kan fjerne svedlugt og pletter med husholdningseddike, dog skal man bruge en klar eddike til lyst tøj, da den brune farve kan smitte af på tøjet.
Bland 5 dl eddike til 5 dl vand sammen i en balje eller spand

Tøjet lægges i blød i 10-15 minutter

Vask på et almindeligt program efter anvisningerne for tøj

Gentag behandlingen hvis nødvendigt
Hvis tøjet tåler kogning, kan man med fordel prøve at lægge det i blød i kogende vand i ca. 30 med en spiseske vaskemiddel. Gnub eller børst tøjet godt, når tøjet er kølet lidt ned og skyl så efter i koldt vand.  
Olie:
Hvis du har fået olie på dine bukser eller din yndlingstrøje, kan du få pletten af ved at bruge enten opvaskemiddel eller rensebenzin.
Opvaskemiddel: Påfør en god mængde opvaskemiddel på pletten, sørg for den er trængt godt ind. Læg tøjet i en pose og luk den, så den er helt lufttæt. Lad det virke i ca. 5 timer og skyl så efter med koldt vand. Gnub evt. samtidig med at du skyller opvaskemidlet af.
Rensebenzin:
Der hældes en meget lille smule ca. 1 teske rensebenzin på et stykke køkkenrulle eller en klud uden farve.

Dryp et par dråber opvaskemiddel på pletten bagefter og gnub pletten indtil den forsvinder.

Skyl efter i rent vand

Vask på et almindeligt vaskeprogram efter anvisningerne.
Harpiks:
Man kan bruge disse to trick til at fjerne harpiksen hvis den har fået sat sig godt fast og ikke kan gå af i en almindelig vask.
Husholdningssprit og kartoffelmel: Bland kartoffelmel og husholdningssprit sammen til en ensartet masse, det skal have samme konsistens som mayonnaise.
Start med ca. 1 teske sprit og bland derefter kartoffelmel i indtil konsistensen opnås.

Lad pletten tørre helt ind og "sug" det så af med trækpapir eller køkkenrulle med et strygejern. Det gøres ved at lægge tøjet på et strygebræt, lægge trækpapir eller køkkenrulle (dobbeltlag) henover og kør forsigtigt strygejernet over et par gange indtil du kan se at pletten er væk.
NB! Pas på du ikke brænder hul i papir eller tøjet, indstil derfor varmen korrekt på strygejernet. Brug ikke damp.
Margarine: Indfedt pletten i margarine og lad det sidde i 2 timer. Skyl derefter i varmt vand og gentag evt. hvis nødvendigt. Herefter kan tøjet vaskes på almindelig vis.
Stearin:
Brug et strygejern til at varme/suge pletten af. Tøjet anbringes på et strygebræt, læg et par stykker køkkenrulle over pletten og kør forsigtigt strygejernet henover pletten indtil den er opløst. Husk at juster varmen på strygejernet. Brug ikke damp, hvis det er muligt.
Rødvin:
Hvis der er kommet rødvinspletter på tøjet eller dugen, kan man med fordel bruge enten glycerin eller dansk vand. Herefter kan man vaske tøjet på normalt program.
Glycerin: Dyp lidt glycerin på pletten og lad det virke mellem 5-8 timer. Husk at lægge det i lufttæt pose så pletten ikke tørre ind. Skyl efter i vand og vask almindeligt.
Danskvand med brus: Dette kan kun bruges hvis pletten er helt frisk. Sprøjt eller hæld dansk vand ud over pletten og sug op igen med en ren klud eller køkkenrulle. Gentag indtil pletten er væk. Vask derefter på et normalt vaskeprogram efter anvisningerne.
Make up:
Brug husholdningseddike til at fjerne pletterne fra make-up. Pletten dyppes ind i sprit og lægges i en pose det lukkes helt. Lad det virke i minimum 8 timer og vask derefter normalt.
Kuglepen:
Her kan man bruge sødmælk og husholdningssprit.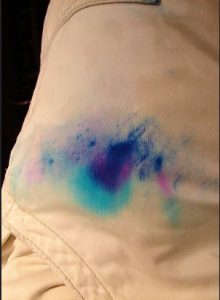 Sødmælk: Gennemvæd pletten med sødmælk, indtil pletten er opløst mest muligt, sørg for at den ikke tørre ud. For at fjerne fedtpletten fra mælken, man kan hælde et par dråber opvaskemiddel på pletten og gnid det ind i pletten. Læg tøjet i en lufttæt pose i ca. 5 timer og vask derefter almindeligt efter anvisningerne på tøjet.
Husholdningssprit: Hæld en smule sprit på en fnugfri klud og gnid/dyp pletten med blæk af indtil pletten er opløst. Vask i vaskemaskinen.
Chokolade:
Kan fjernes ved at lægge tøjet i blød i 2 ml opvaskemiddel i en balje eller spand med vand. Lad det virke i en times tid og gnub pletten med en blød svamp eller børste. Hvis det ikke er tilstrækkeligt, kan man forlænge virketiden.
Hvilke midler skal man bruge
Hvis man vil have et godt resultat, så er det vigtigt at bruge de rigtige midler. Man kan ikke altid nøjes med at bruge et gammelt trick, hvis tøjet nu ikke kan tåle dette. Derfor skal man altid se i vejledningen på mærkaten til tøjet om hvordan det kan vaskes og hvilke grader det kan tåle samt tørretumbling.